ABOUT DigiAsia
DigiAsia is a digital marketing congress organized by the Asian Federation of Advertising Associations (AFAA). Taipei Association of Advertising Agencies (TAAA) is the host for this outstanding event which takes place in Taiwan every two years (every even year) starting 2014.

DigiAsia aims at creating the biggest digital innovation platform in the world, serving as a forum in connecting talents around the world. The congress encourages digital professionals to learn, share, and experience under the common goal of creating a better future.
Why is DigiAsia important?
DigiAsia is tailored to the needs of an ever-increasingly technology driver conference in Asia, it gathers technology professionals including managers, creative, designers, and IT talents, etc. from all over the world. Through DigiAsia, professionals may come with different experiences and expertise, but share similar goals and exchange ideas to seek opportunities for cooperation with each other!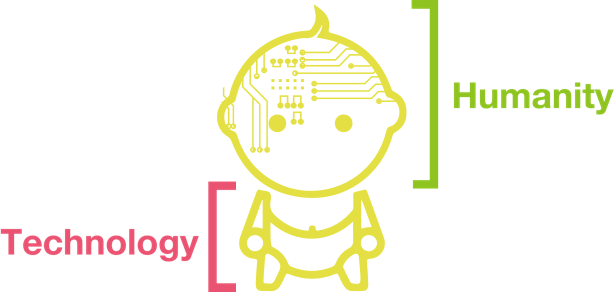 ABOUT 2018 DigiAsia - Experience AI.
DigiBaby
DigiBaby is the newborn baby of Asian Federation of Advertising Agencies (AFAA), it inherits the excellent descent of traditional ads, and also learns the new Digi elements, the combination of tech and humanity. DigiBaby will always be like a newborn baby, self-grow and self-evolve at all times, and its mind will never change!
By 2016, DigiBaby – the vividly crafted emblem of DigiAsia – had grown up into a toddler, taking his first step into the world with insatiable curiosity. In 2018, a circuit board will be featured on DigiBaby's head, echoing theme of "Experience AI" and symbolizing the symbiosis between AI and humanity.
4

key themes:
AI x Industry, AI x Media, AI x Creativity, AI x Technology + Panel Discussion
6

center stages x more than

50

speakers from

10

cities around the world x

400

start-ups x

4

digital-themed exhibitions x
partnership with Meet Taipei - the largest startup festival in Asia - with an estimated

70,000

visitors
3

Taiwan-themed luncheon &

2

evening banquets
2018 DigiAsia, in collaboration with 2018 Meet Taipei Startup Festival, will feature dozens of keynote speakers from internationally renowned businesses, exhibitions of 300 local startups & companies, and 100 global startups. The three-day event is expected to attract 70,000 visitors. Taking place at the Taipei Expo Park, the main venue for the acclaimed 2010 Taipei International Flora Exposition, 2018 DigiAsia hopes to add another local flavor to the experience of our guests, in addition to the comfort of the 5-star accommodations. Group tours to startup labs and local themed lunch and dinner will also be provided, all to give our guests an unforgettable experience in Taipei.
Chairman Evan Teng

Chairman, Taipei Association of Advertising Agencies (TAAA)
Vice Chairman Dong-Long Wu

Chairman, Kaohsiung Association of Advertising Agencies (KAAA)

Vice Chairman Elle Huang

President of Taipei Chapter, International Advertising Association (IAA)

Vice Chairman Yves Huang Ph.D.

Chairman of The Association of Accredited Advertising Agents of Taipei R. O. C (4A)

Vice Chairman Mark Chen

Chairman, Media Agency Association (MAA)

Vice Chairman Freda Shao

Chairman, Digital Marketing Association (DMA)

Vice Chairman May Chang

Chairman, Taiwan/Taipei Public Relations Association (TIPRA)

Consultant Johnny Duann

Publisher, Rock Publications Co., Ltd
ORGANIZERS
CO ORGANIZERS
ADVISORS
SPONSORS
AD TAIWAN 13TH SPONSORS
MEDIA PARTNERS
IMPLEMENTERS